It's no secret that Manchester United's defence has been unstable at best this season.
They have one clean sheet to their name, which came back in August. Their underlying numbers aren't any better either, as they have the fifth-worst record in the Premier League with 14.8 xG conceded.
This issue has been highlighted even further in the past week, as the Red Devils were carved apart and shipped four goals against Leicester City before looking similarly hopeless in the Champions League against Atalanta. In that instance, they completed a memorable comeback from 0-2 down at half-time.
Unsurprisingly, such defensive performances led to many being concerned in the build-up to their league clash against Liverpool, who had the hottest attack in the country heading into the weekend with 22 goals scored from 21.5xG (both league-topping tallies) and an incredibly in-form Mohamed Salah to boot.
The good news for Manchester United was that Bruno Fernandes was fit enough to start after some injury doubts surrounded him.
With Fabinho, Joël Matip and Sadio Mané all out of the Liverpool XI, some fans even began to develop a bit of hope for a positive result.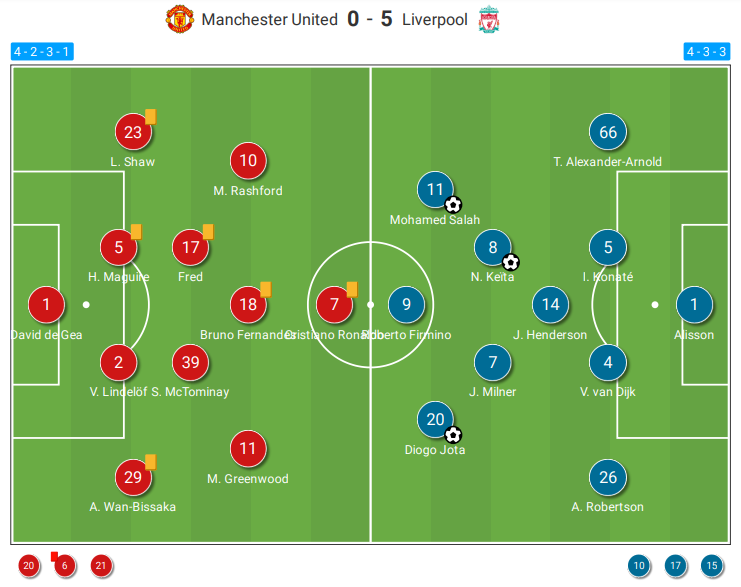 That is not quite what happened.
United ended up being utterly decimated by a Liverpool side that did not even deliver one of their better performances, but such were the fundamental flaws in the hosts' set-up that the scoreline could easily have been twice as bad had the Reds not decided to ease off in the second half.
Now, the big question is why United's defending has become so terrible if they still use the 4-2-3-1 that served them alright last season – especially in such big games where they were able to pose a serious counter-attacking threat.
The answer to that is quite simple – last season their centre-forward had the capacity to press, which meant that Fernandes could stay behind him and mark the opposition defensive midfielder, but with Cristiano Ronaldo in the side, that is no longer the case.
Now, Fernandes has to push forward and press the opposition defenders (because you cannot simply allow them to have the ball unless you intend to sit in a low block, which is something that United don't do).
This creates a sort of a 4-4-2 shape with a massive hole between the midfielders and forwards and spaces on either side of the midfield, which opponents exploit.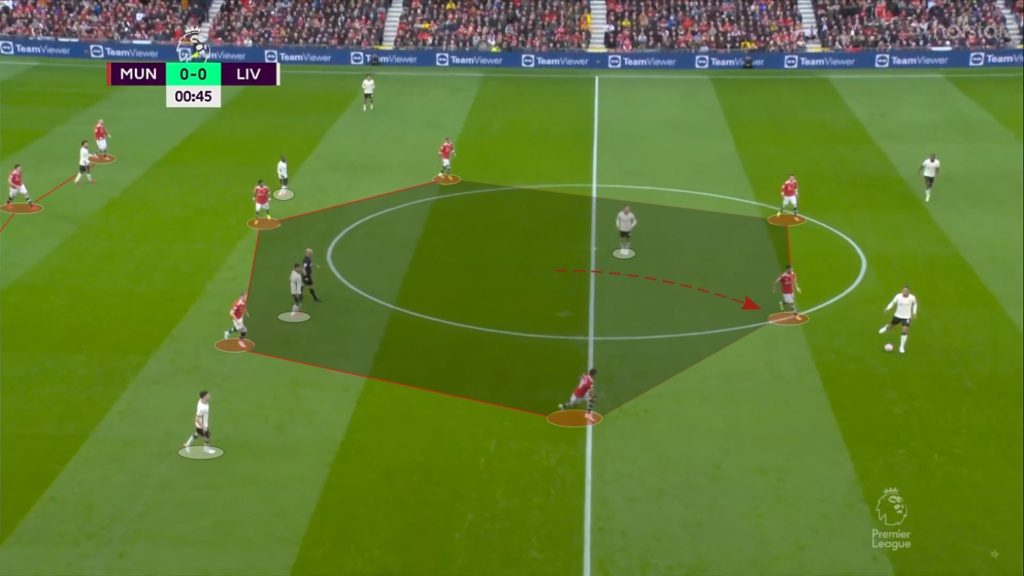 The most fundamental aspect of pressing is that it must be coordinated – everyone initiates a press together and not individually.
United have consistently violated that throughout this season, and it was never more evident than in Liverpool's opener.
Here, Fernandes goes to press Alisson with no back-up whatsoever, allowing for a simple pass.
With the Portuguese international out of the equation, Mason Greenwood has to close down Virgil van Dijk from the right-wing position because the Dutch centre-back cannot be afforded time on the ball to measure one of his pinpoint long passes. He simply helps it on to Andy Robertson.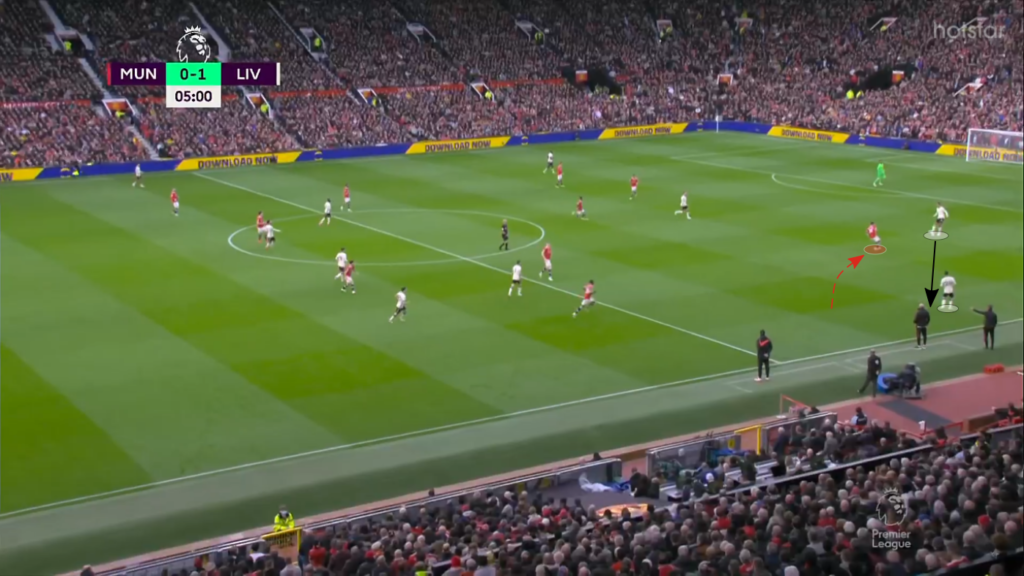 Aaron Wan-Bissaka chooses to close the left-back down instead of staying put, so he has a straightforward pass into Jota, who then touches it on for Roberto Firmino between the lines as Victor Lindelöf is right behind him.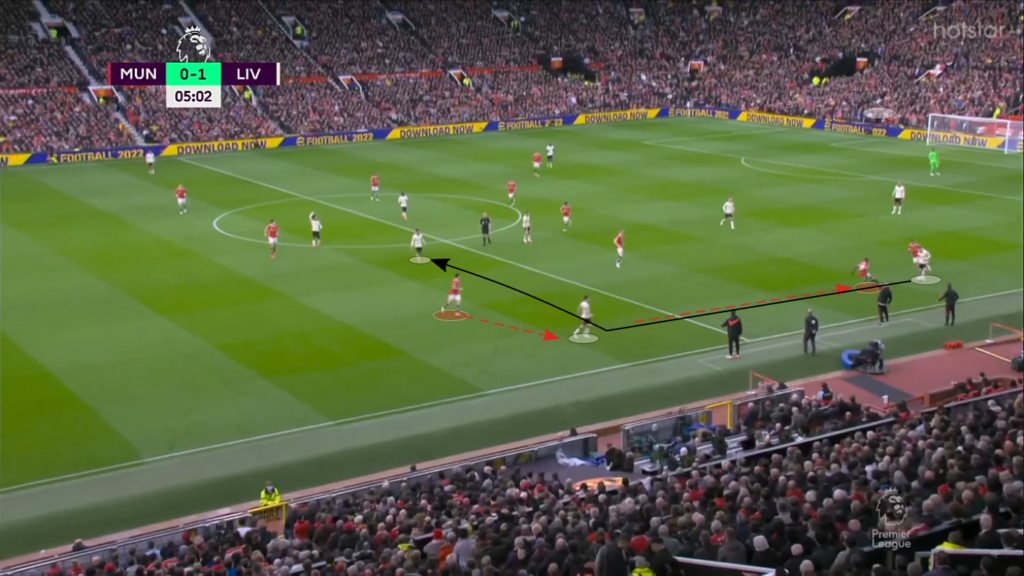 Harry Maguire closes the Brazilian forward down, leaving Mohamed Salah alone as Luke Shaw attempts (and fails) to catch him offside.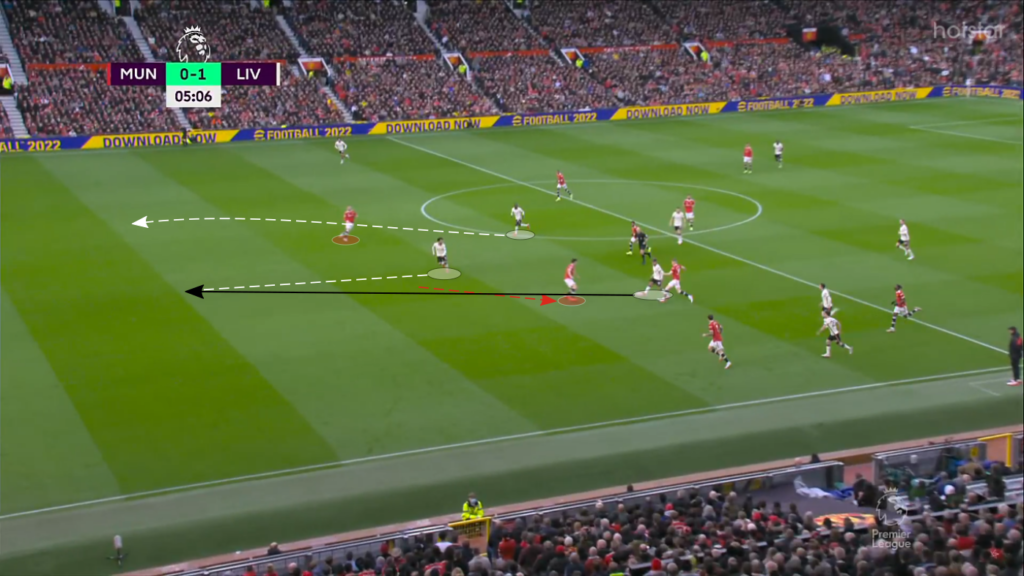 Naby Keïta joins in on the fun too, and just like that, Liverpool went from having their keeper in possession to going through on goal at the opposite end in about 10 seconds thanks to United's completely disjointed press.
It was the space behind the wingers that hurt them for the second goal…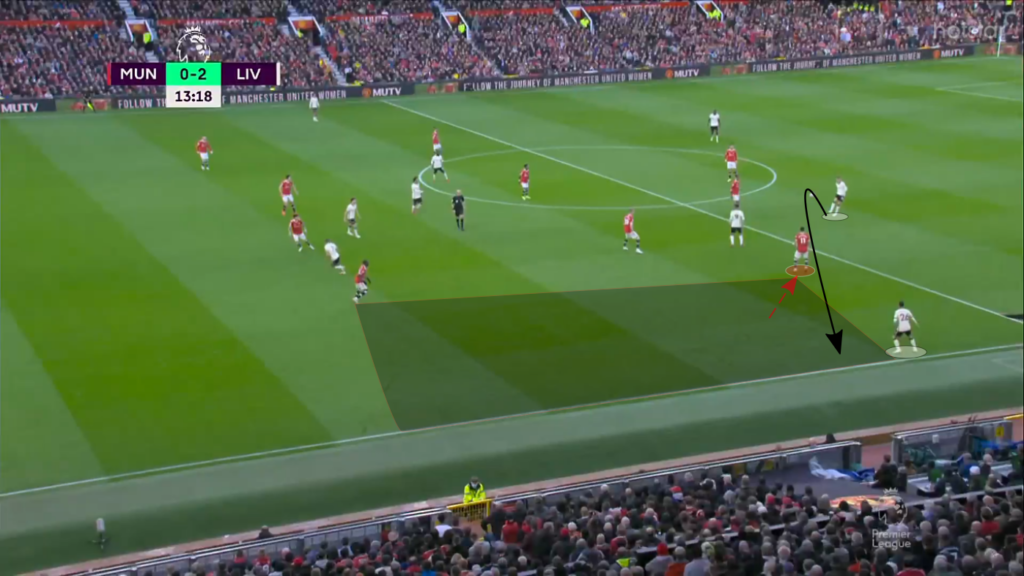 …though this mix up between Maguire and Shaw could undoubtedly have been avoided.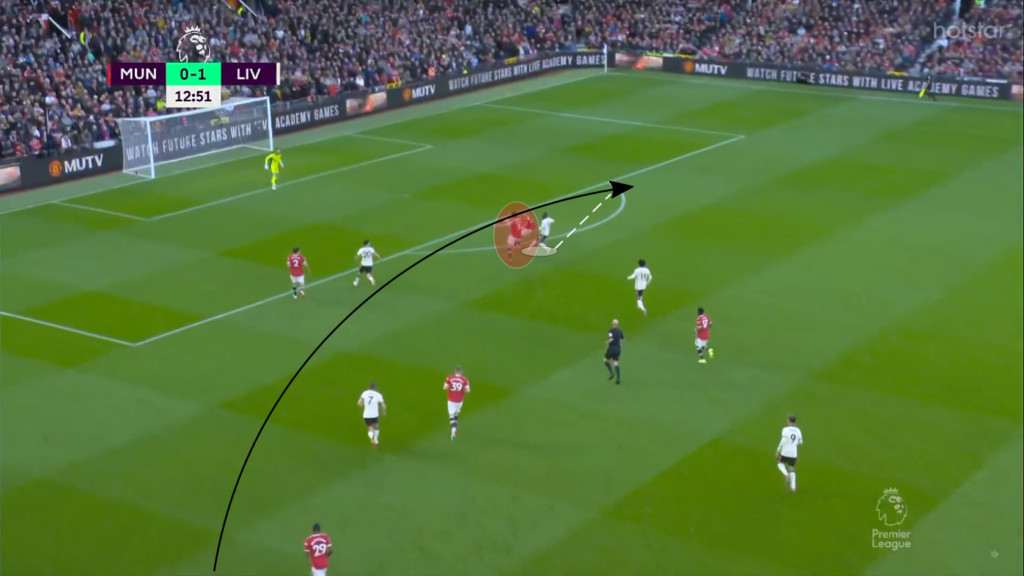 For the third goal, Liverpool started their move by accessing the space out wide…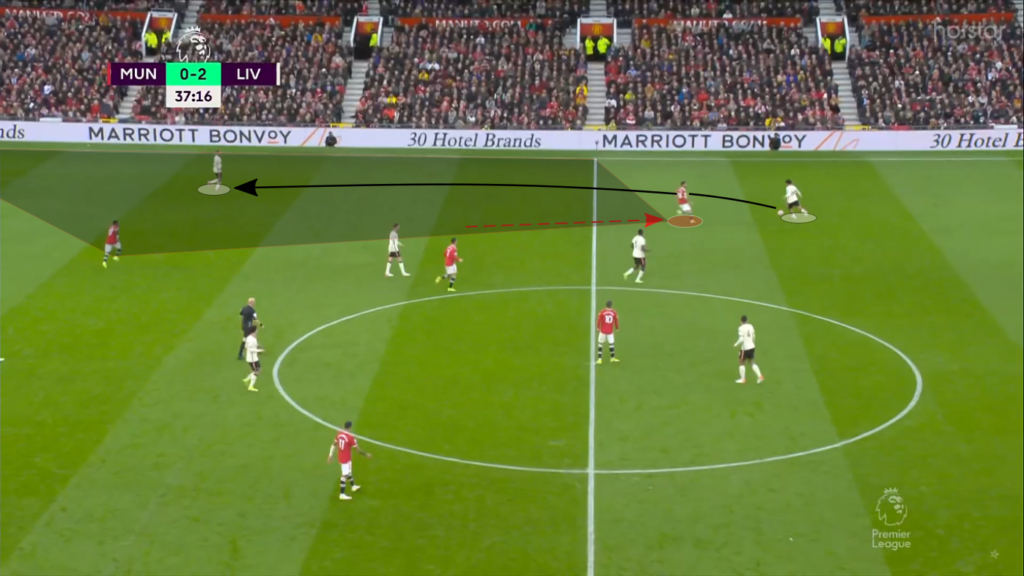 …before relaying the ball into the big central hole…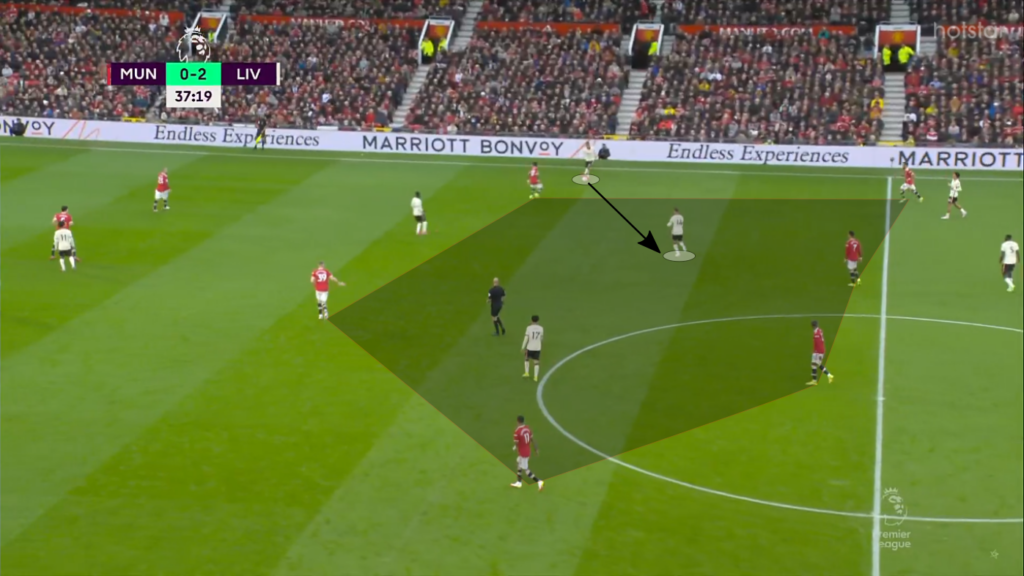 …and initiating some very intricate one-touch passing that culminated in a ball played across the face of goal, which was turned in by Salah.
We could go on with innumerable examples of United leaving incredible amounts of real estate open throughout the first half, but you probably get the idea by now.
The main criticism of the Red Devils' summer business was their lack of defensive midfield signings, but the fact is that no two holding midfielders from any club and any era could possibly cover the sort of spaces that this 4-4-2 shape leaves.
There are absolutely no correct decisions that they can make – jump forward and you leave the defence open as they did in the first goal, but stay back and you let the opponents pass through you as they did in the third.
This is one of the most glaring tactical issues in top-level professional football at the moment, and in most clubs, it would have already cost the manager their job.
United stuck by Ole Gunner Solksjær after watching these exact problems unfold for roughly two consecutive months, but this sort of humiliation at the hands of the club's most bitter rivals unquestionably puts his position under much greater threat.
Perhaps the greater humiliation was the mercy that Liverpool showed after going 5-0 up with an extra man, but maybe that might just have bought the Norwegian manager a little more time as opposed to something like an 8-0 result.
The simple conclusion from this game is that things need to start changing quickly at United, and if Solksjær is given one last chance, he will have to show that he can make the tough calls or risk being replaced himself.
Stats courtesy StatsBmob via Fbref.