We're hardly two months in, but this season already has been quite the rollercoaster for Manchester United.
A 5-1 thumping of Leeds United to kick off the campaign was just what the doctor ordered, but a 1-1 blip against Southampton quickly followed.
However, wins over Wolverhampton Wanderers (1-0) and Newcastle United (4-1) along with the return of Cristiano Ronaldo massively changed the atmosphere around Old Trafford from what we saw last season.
Then came the hard and painful fall down to reality. A last-minute defeat to Young Boys in the Champions League was followed by a similar victory over West Ham United in the Premier League (who got their revenge soon thereafter in the Carabao Cup).
After that, Aston Villa bagged three thoroughly deserved points at Old Trafford, and although yet more stoppage-time drama saw Villarreal defeated, Everton got a result at Old Trafford with their most recent 1-1 draw.
Although the results are starting to mirror the disappointment of last season, it is important to remember that the Red Devils saw several positive changes over the summer that should lead one to expect improved performances.
Apart from Ronaldo, Jadon Sancho and Raphaël Varane were brought in to add some world-class quality to both their attack and defence.
However, the lack of transfer activity in midfield is already proving to be a mistake, as we saw in the Villarreal match. The coaching staff also had new arrivals, including set-piece coach Eric Ramsay.
Dead-ball situations undoubtedly were a big issue for United last season – their 14 goals conceded from set-pieces was the second-worst record in the Premier League (just one less than Leeds United), while they only scored half as many from such situations.
Things are already starting to get better with Ramsay around, as United have only let in one such goal in seven matches, although they have failed to score themselves.
The underlying data also indicates an improvement in an attacking sense, with United's 18 SCA (Shot-Creating Actions) from dead-ball passes being the third-best tally in the league, shooting up from just 1.97 per game last season to 2.57 per game now.
Despite this, set-pieces remain an issue for United, albeit in a different way. They are much better already at the first phase of set-pieces, where you typically have to attack or defend a ball being delivered into the box, but it is the second phase that is still hurting them.
This was never more evident than in the Everton game, where the equaliser was conceded following a counter-attack from a corner.
Let's take a closer look at it:
Firstly, we must understand United's set-up from the corner. Bruno Fernandes was the taker, and he had five men in the box and Mason Greenwood close to him for the short option.
Fred and Luke Shaw were on the edge of the box, while Aaron Wan-Bissaka was the only man who properly stayed back, though Everton did not have anyone to immediately bother him as all of their players were in the box.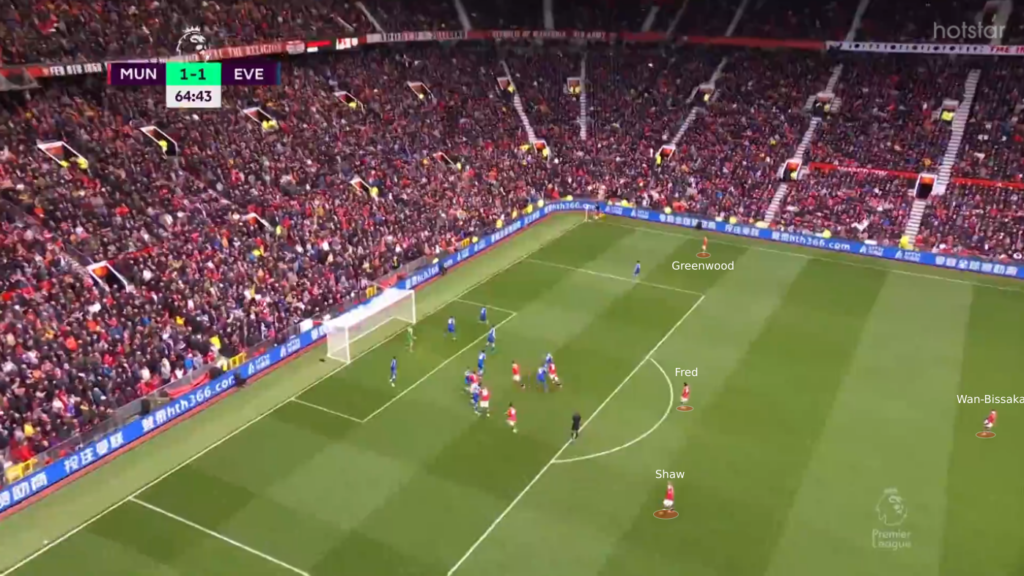 The first issue was that Fernandes' delivery was terrible — he completely miscued it and led to the ball being easily cleared by the first Everton defender at the near post.
The Toffees tried to push out thereafter, but the only man near the ball for them was Gray, while United had several players around him.
Fred was the one who first engaged in a duel with him to regain possession, and he seemed to be the favourite to win, at least according to the body language of Greenwood and Shaw, who had almost come to a standstill.
Spolier alert: Fred lost the duel. Greenwood decided not to continue the chase, understandably because Gray still had Wan-Bissaka in front of him, while Shaw remained comfortably ahead of Andros Townsend.
The big problem now was Abdoulaye Doucouré, who was well clear of Victor Lindelöf and therefore used by Gray to keep the counter-attack going.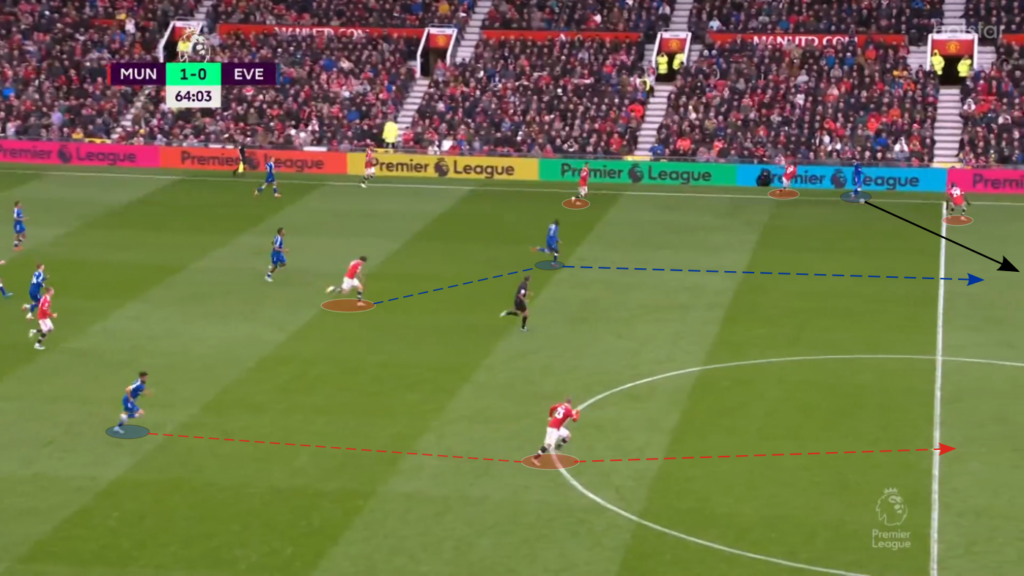 Shaw seemed to feel that Lindelöf would not be able to catch up to Doucouré, so he diverted his run to go across to the Frenchman. However, that left Townsend open, and Varane certainly was not going to get close to him.
Doucouré got away from both the United defenders with a clever jink before slipping Townsend through on goal…
…who coolly slotted the ball past David de Gea to make it 1-1.
Evidently, the overriding issues here were the individual mistakes both in terms of duels and decision-making that contributed to the goal.
Did the structure contribute to that in any way? Let's look at another such instance from earlier on in the season to find out.
This time, we're at the Molineux, where Shaw was taking a corner from the left. United's structure was very similar – six in the box (one more than the last example due to the lack of short passing option), two at the edge of it (Fred again and Daniel James, who is out of shot), and Wan-Bissaka (again out of shot) being the only one to fully stay back once more.
The big difference, though, was that Wolves were a lot braver in their approach as they too had two men at the edge of the box in João Moutinho and Francisco Trincão, while pacy forward Adama Traoré (also out of view) stayed up alongside Wan-Bissaka.
The delivery was fine this time, but it was headed away by a Wolves defender. Thanks to the hosts' set-up, counter-attacking was a lot easier for them than it was Everton, so they immediately sprung forward with serious speed as the ball broke to Moutinho.
Recognising that Wan-Bissaka could be isolated with the deadly Traoré, Fred chose to drop back as soon as the first header was lost, leaving James to cut across to meet the ball carrier.
Fred's decision was almost instantly vindicated when Moutinho tried a killer pass into space for Traoré to chase, and he was able to get in the way of it and make a crucial interception.
However, he could not control the ball properly in the process, allowing it to fall for the onrushing Trincão. This was not such a big problem, though, as the Brazilian midfielder could still hold up the attacker by engaging him in a duel.
Spoiler alert: Fred lost the duel (again, and this time he was properly left on the floor). This time, the consequences were much greater as Trincão was one-on-one with de Gea…
…who he managed to beat with his shot too, but a last-gasp slide from Wan-Bissaka saved the day for Manchester United.
Undoubtedly, the Red Devils have come a long way from the absolute shambolic set-up against İstanbul Başakşehir, but there still is work to be done in how they try to prevent counter-attacks after set-pieces.
In terms of personnel, there isn't much that can be changed because the two centre-backs and Scott McTominay will always be in the box for their aerial threat, while attackers cannot be trusted with defending transitions.
The main issue in both of the above instances was that Fred lost key duels, so the focus should be on preventing him from ending up in such situations.
Wan-Bissaka – a world-class one-on-one defender – is the obvious choice for the last man, but it might make sense to keep Fred back there with him too so that he does not have to engage in duels while running backwards, and he provides very little goal-threat with his shooting from the edge of the box anyway.
The trade-off here is that most sides will be able to break away from their box with just one United defender in the region, so the transition situations will start, but with two men further behind, the Red Devils may well be able to better prevent dangerous endings.
United's set-piece overhaul over the summer is already starting to produce clear results, so their overall set-up seems to be okay.
Now, it is time for them to focus on the fine-tuning and minor tweaks in this aspect, and giving Ramsay's track record, it won't be too long before that happens.
Stats courtesy WhoScored and Fbref.
Read also: Ben Chilwell at risk of missing out on World Cup squad.